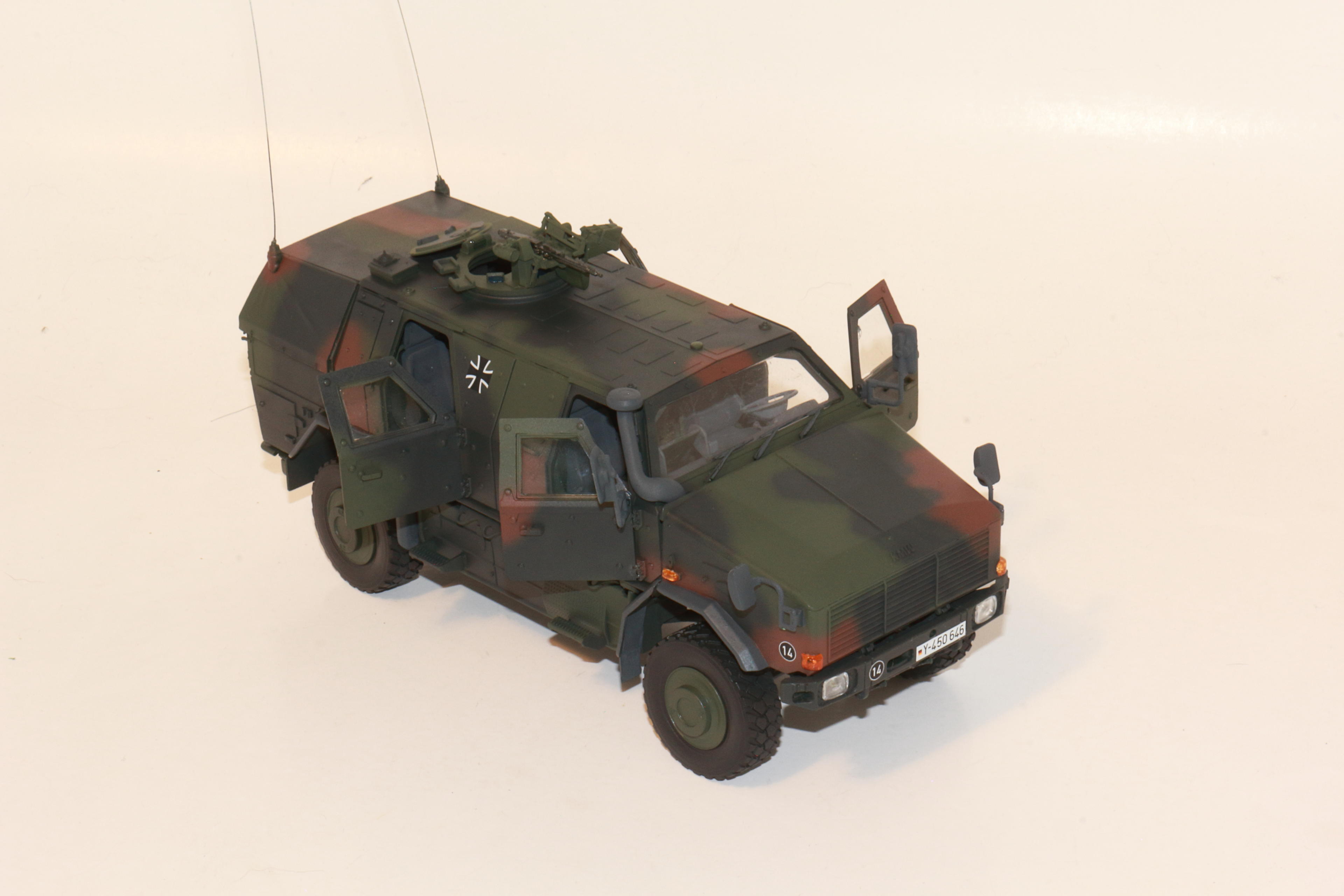 Reviewed - Revell of Germany 1/35 ATF Dingo 2 GE A2 Patsi
Published: 12/13/2021 | Time To Read:2mins
About the Model
The ATF Dingo is a German MRAP, based on the Unimog chassis with a V-hull design, produced by KMW. The Dingo is a heavily armed infantry transport, used in modern days wars to protect against IEDs and other explosives.
Pre-Build Review
Released in 2013 is a rather unique model to me of the ATF Dingo 2. Used by Germany for troop transport. This model included 10 sprues, 2 of which are clear, and vinyl tires. This kit is considered a level 5 by Germany and the number of parts confirms this. I'll be painting in a traditional tri-color NATO camo pattern.
Post-Build
The building of this model took roughly 15 hours and what an enjoyable build it was. Aside from parts fit issues which I expected going into this model just because it's Revell the construction process was very straightforward and easy to follow. where appropriate I left off detail pieces so that I could build larger sub-assemblies and paint them before going back to the smaller detail bits to add that extra little bit.
Overall my biggest struggle during construction actually came from fitting the main body part to the chassis, eventually I managed to seat it correctly but for the longest time I ended up with a wobbled suspension, mostly I think it just needs proper seating when I did the final glue down was enough to coax it into place, but it was discouraging till that point.
with that said though I loved the build, the detail that went into this, quite a complex build for what it is and that's what I look for in a kit. The subject matter was also really cool as it's not something one sees on a daily basis.
Final Images
To see more of this model head over here