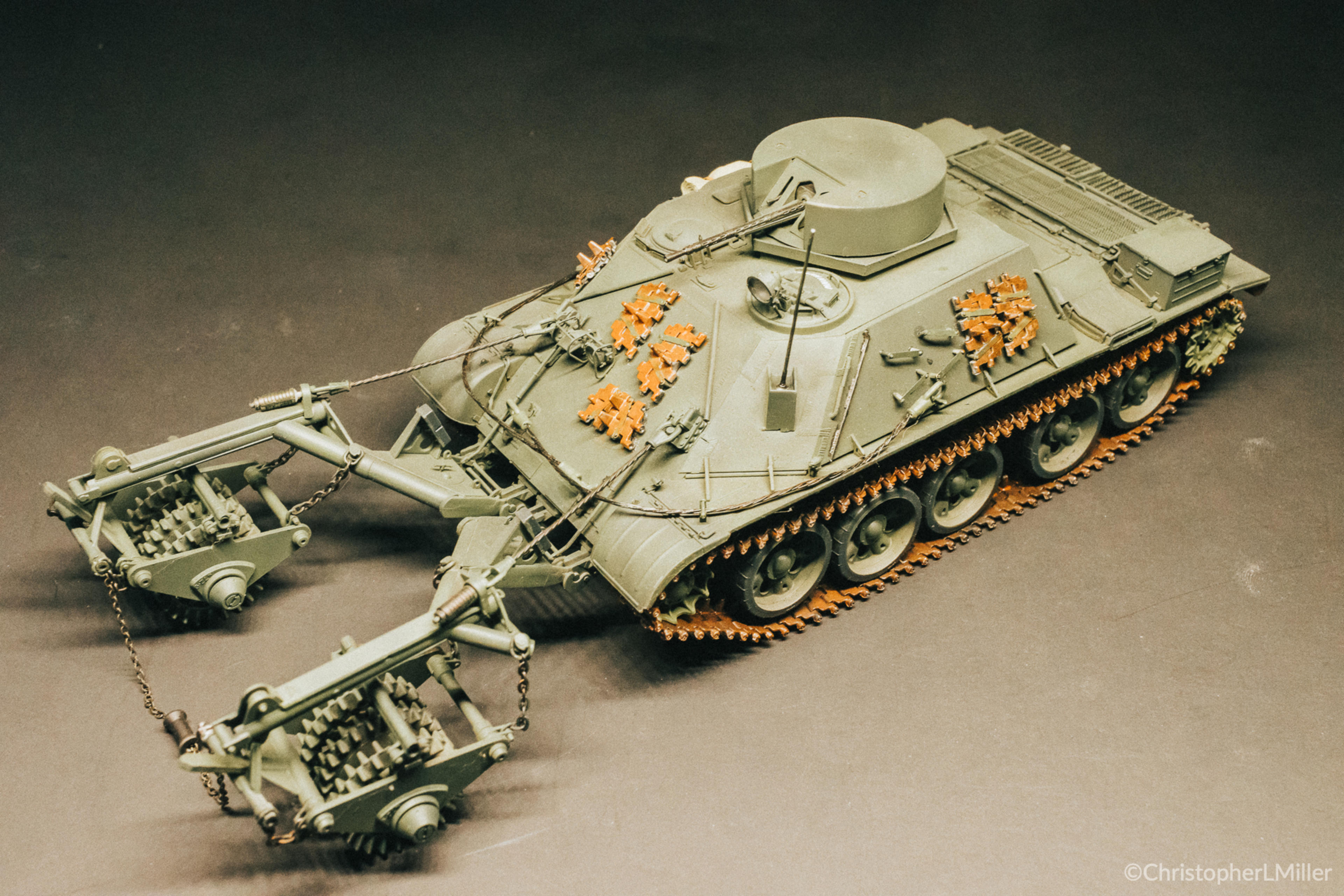 Reviewed - Miniart 1/35 BMR-1 "Mine Roller"
Published: 01/08/2022 | Time To Read:3mins
Miniart is a brand that I've seen many times on youtube videos, forum mentions, and even on retailers. All of their kits looked very well-detailed, and intimidating, and so of course I had to grab one when I found one on Sprue Brothers deal of the day (now called lightning deals). I waited for it to arrive patiently.
Before the Build
When the package finally arrived and I was able to open the box I was greeted by many many sprues of plastic. How many is a mystery now as it's been far too long since I've started on the project. Also included of course were a fairly thick instruction manual, a few frets of PE parts, and some chain.
Miniart, unlike many companies, puts smaller sub-assemblies onto sprues, so that they can repackage many variants and types of tanks, etc without having to send a plethora of extra parts leading to waste. I like this approach, for example, a wheel assembly is all on one sprue, so you can cut those pieces out, build the wheel and throw a small piece of the tree away and that's it. Now, of course, that leads to a box packed full of small sprues but I like that approach honestly.
One option is opted for about halfway through the build was some aftermarket tracks. Looking at the instructions while functioning the kit one looked way too tedious. Sector35 makes fantastic metal tracks that are pre-assembled even leaving only you to make the tracks of the appropriate final length and join the ends together, I like this a lot!
The Build
Building the model was a very long and tedious process as one can imagine. there was nothing overly complicated, but many many small tiny pieces had to be fit together, and not always was the attachment points very well defined, or precise. The wheels for example have a functioning suspension system, but I ended up gluing most of it up just due to how fragile it ended up being.
Many small pieces were fit to the hull of the tank, holding spare track pieces, tools and other various things, many very fragile and broke off multiple times throughout the build. Speaking of fragile bits have you seen the mine roller fitted to it? Holy cow is that a patience tester but the result was a very cool and unique looking model. The chain hooks being the biggest drawback and in the end most ended up being formed by hand by me from copper wire.
To paint this model I purchases more Mr. Color paints and went to town with it, overall though the model was just a few basic russian style colors.
The Result
You can see in the image here what the model looks like in the end, but if you want to know more and see further images of the model head over to the model page here