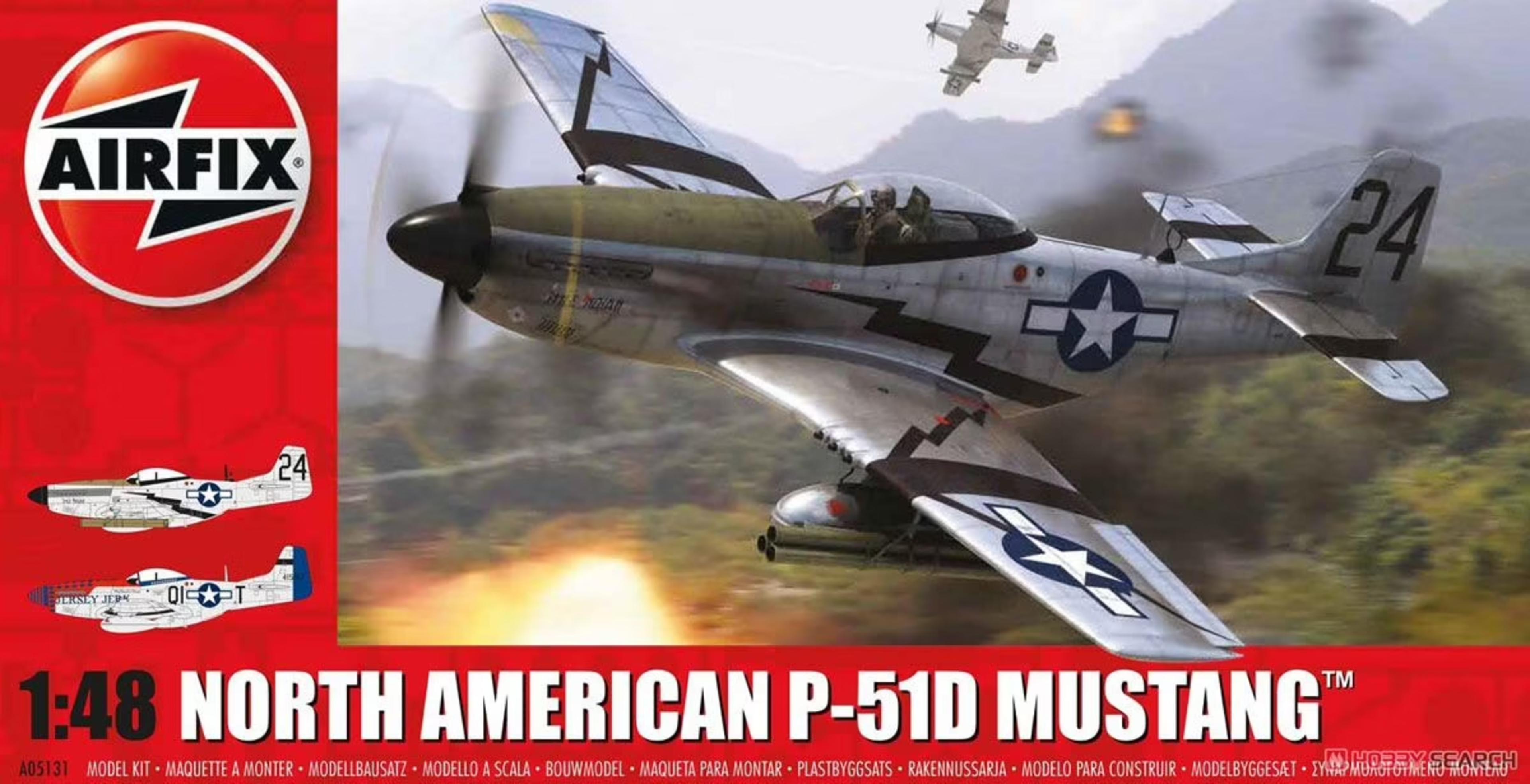 Reviewed - Airfix 1/48 North American P-51D
Published: 01/08/2022 | Time To Read:2mins
Pre-Build
One of the most iconic and my favorite aircraft of all time is the North American P-51 Mustang. I picked up this new tool Airfix 1/48 P-51D Mustang from hobby lobby a few years back and I can't wait to dig into it now. Let's crack that box and take a look!
I start the unboxing looking at the clear sprue, with 3 different canopies and 2 different front windows each looking decently clear and well-formed, with no center seam to be found. The quality looks good. Turning to the soft grey plastic typical of Airfix there are 5 sprues with greatly molded-in detail. Sprue 'A' contains the main body pieces, as well as wing upper surfaces and the main part of the cockpit tub. The panel lines are very crisp, a good sign hopefully. Also included are the various bombs to strap underneath the wings.
Sprue 'B has the lower wing surfaces, as well as a couple of variants of the rudder with the fillet for a couple of options, landing gear covers, and the intake scoop, again great detail on the wing to be found. SPrue 'C' has flaps both in drooped and up to pick from, as well as more gear doors and the gear bays, something I think is nice to see versus just all molded into the bottom of the wing only. Also present is a 4 blade propeller.
Sprue 'D' has a lot of the interior details for the cockpit, with very nicely molded instrument panel and seat detail as well as many options for exhaust wheels, and so on. The final sprue, sprue 'F' has rocket pods for those outfitting for vietnam.
Moving onto the decals, the finish is very crisp and colors look great, and also matte. Many stencils are present, and then two marking options are included with all the relevant markings for each one, Flipping throug hthe instructions everything looks very straightforward and typical for airfix with the previous steps details being shown in red to help draw attention to where the parts fit home at. one grip as usual is the use of Humbrol paints so I'll have to convert to other brands.
With that said lets get on with the build!